Meet the Chief Executive Officer/Founder
Mr. Trèon D. McClendon is a motivational education activist who aspires to change the world one person at a time. Trèon was born in Northwest, Indiana but later relocated to Indianapolis, Indiana graduating high school in the top 10%. He always knew he wanted to provide positive impact and inspire others but was unsure where life would eventually take him personally and professionally. Furthermore, after his junior year of college he realized that he had a special gift to educate and influence future leaders of tomorrow. He always says that, "passion beats talent." Mr. McClendon is committed to enhancing the educational sector, service learning and mentoring by providing tools and key competencies for leaders providing successful outcomes.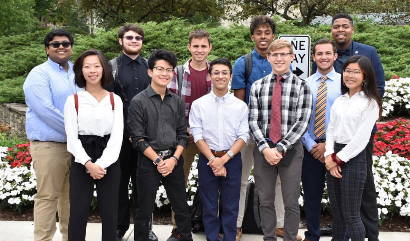 Currently, he resides in Bloomington, Indiana. Trèon brings a plethora of years in the education industry. His professional experiences have included but not limited to; planning recruitment events, programming, teaching, curriculum development, supervising, teaching, mentorship, interview prep, and lesson planning.
The best leaders are constant learners. His favorite leadership theory is transformational leadership. When he thinks of quality leadership and his style, he instantly reflects on the transformations he's made in his life and who he is becoming. The central concept here is change and the role of leadership in envisioning and implementing the transformation of organizational performance. Building and sustaining creative and positive relationships is a passion of his and he's committed to everyone he has the distinct pleasure of serving. His charisma is unmatched! His ability to connect with people by instilling the importance of self-efficacy and career exploration is impeccable.
As a first-generation college graduate and student, he knows the importance of the skill set and always pushes his students and peers to reach new heights by first believing in the dream then executing.
Trèon received his bachelor's degree from Indiana University in Bloomington, Indiana. Additionally, he went on to complete his master's degree at the University of Saint Francis in Fort Wayne, Indiana. Currently, he is working towards his doctorate of education with dreams of one day landing his dream job as collegiate President. When Trèon receives free-time he likes to travel, read, relax, and hang out with friends and family. Great things never come from your comfort zone. Do the unthinkable to reach greatness. It truly takes a village!